CuraGel destroys 99.9% of all known pathogens causing chronic skin infections.



1. Curagel penetrates infected area of ulcer or sore destroying harmful germs on contact. The effectiveness of CuraGel will diminish as more and more germs are neutralized. Appox 1-2 hours. Therefore one should
replenish with more CuraGel after two hours.
2. Curagel destroys germs via a process called "Oxidation"
3. Curagel also forms a barrier over the ulcer or sore to protect from further infection.
Antibiotic resistance
Staph bacteria are very adaptable, and many varieties have become resistant to one or more antibiotics. For example, only about 10 percent of today's staph infections can be cured with penicillin.
The emergence of antibiotic-resistant strains of staph bacteria — often described as methicillin-resistant Staphylococcus aureus (MRSA) strains — has led to the use of alternative antibiotics with the potential for more side effects.
TRY CuraGel next time. CuraGel works via oxidation a process that MRSA & STAPH cannot get resistant to. That's nature working at it's best.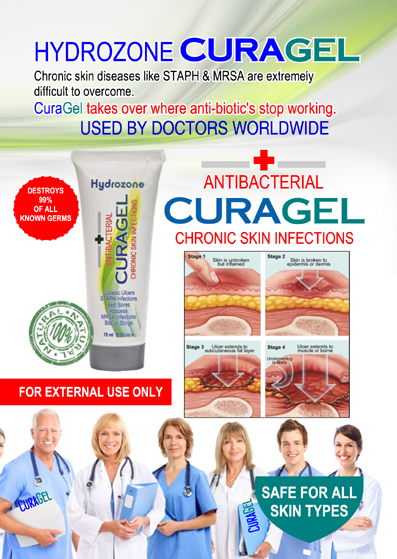 BULK Curagel 100ml X 10
Product Code: CGEL
Availability: 420
Tags: BULK Curagel 100ml X 10